Classic Gaming Expo UK 2005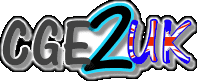 Accessible Gaming at CGEUK 2005
OneSwitch.org.uk exhibited accessible games at the Classic Gaming Expo UK. This event took place on the 13th of August, 2005 at the Fairfield Halls in Croydon, London.
From 10am till 6pm five games machines were playing accessible games on free play. These included single switch games, head tracker games, audio games, subtitled games and more. It was a fantastic day, and great to find people keen to find out more.
This story can also be viewed in symbols at SymbolWorld.org in their May 2006 edition of eLive.
Barrie Ellis
www.OneSwitch.org.uk

2019 update: I recently discovered a video of CGE-UK 2. You can get an idea of the event, and catch a glimpse of the OneSwitch stand at 3:27, 6:54 and 10:50 mins.