Games Console Switch Interfaces
The following Switch Interfaces can make otherwise inaccessible games consoles playable. By allowing standard accessibility switches to connect to games consoles, gamers can tailor design their own set-up. It may still be however that gamers will need to play in teams to cope with the huge surplus of controls many modern games demand.
Click on the images below for more details on each controller and where you can purchase these from. Please feel free to e-mail for help on anything that is unclear, or to share new information.
---
Game Control Mixer
From OneSwitch.org.uk (UK)
Switch, sip-puff and joystick interface for PC. Various options.
C-SID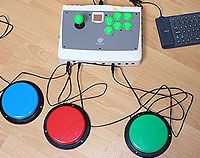 From OneSwitch.org.uk (UK)
Console Switch Interface Deluxe (second hand). Switch sockets for all main features.
UltraStik Switch Interface
From OneSwitch.org.uk (UK)
PC and Xbox Adaptive Controller compatible joystick. Optional switch sockets can be fitted.
6-Port Controller
From: Evil Controllers (USA)
A six-socket switch interface for the Xbox 360. The function of each socket can be reconfigured to any button on the controller.
Adroit
From: Evil Controllers (USA)
A versatile switch interface with remappable controls, switchable profiles, auto-fire, control latching options and external analogue controls.
Game Box Controllers
From: RJ Cooper (USA)
A number of basic adaptations to JoyPad controllers. Ideal for team play or for gamers needing a button or two brought to a more accessible place.
Gimpgear Versatility
From Broadened Horizons (USA)
Various switch accessible gaming adaptations and devices. Require additional switches and optional analogue controls to suit each individual to create a tailor made control set-up.
Gimpgear Nintendo Wii
From Broadened Horizons (USA)
Various Wii switch accessible solutions.
N.B.Presently there is no switch accessible solution to games requiring Wii remote motion.
Guitar Hero Interface
From Enabling Horizons or RJ Cooper (USA)
PS2 and PS3 compatible switch interface for Guitar Hero. Features a one-button play mode.
PS3 Switch Access Pod
From LEPMIS (UK)
A durable Playstation 3 switch and analogue interface box that allows for full customisation of controls unlike any other.
Contact designer Geoff Harbach at LEPMIS for more information. See also: LEPMIS guide for making your own analogue controls for the PS3 Access Pod.
Playstation Control Centre
Enabling Devices (USA) and GSTS Designs (USA)
A Playstation compatible controller with a number of switch sockets at the rear. Playstation One and partially Playstation2 compatible.
Team Xtreme
Nintendo compatible switch interfaces. Superb versatile controllers from the sadly defunct Pathways Development Group, Inc. Their interfaces included versions for the Famicom/NES, Super Famicom/SNES and N64.
---
D.I.Y. Switch Interfaces
Build your own switch interfaces. Includes many other guides for switch accessible equipment.