8BitDo Lite SE
~£30 via Amazon for basic version
£100 advanced version (Titan 1)
POA deluxe version (Titan 2)
A light pressure controller with sticks and buttons all light pressure. All main controls on the surface. Note, "8BitDo Lite" with conventional shoulder buttons are not light-pressure controllers. Just the SE version.

Nintendo Switch, Android and Raspberry Pi compatible.

Titan 1 version gives further boosted sensitivity and additional option to connect to PS3 and with some limitations PS4/PS5.

Titan 2 version will do the same plus work on Xbox with an Xbox controller attached.


Please e-mail for further information and for ordering details.
---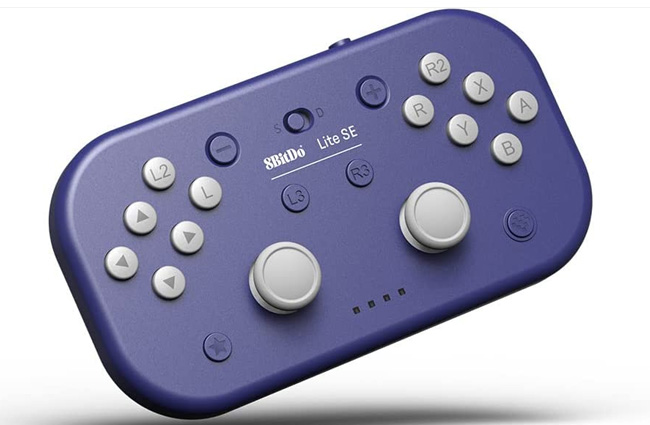 The controller is roughly 12 x 6.5cm. The distance from the stick to the furthest button is approximately 3.5cm. The buttons are about 7mm in diameter.

~25g pressure for the sticks. Slightly less for the buttons.

Rubber grippy back helps stop the controller from sliding about.

These controllers have no rumble motors and no motion sensors.

See more at the OneSwitch blog and SpecialEffect Game Access. If you have a Titan one or Titan Two these scripts are available on-line.


---