Zik-Zak LARGE joystick
£190 Zik-Zak LARGE METAL (plus postage)
£175 Zik-Zak LARGE PLASTIC (plus postage)
+£35 MERU Cow-bar Top
+£POA Golf Ball tops
+£POA Custom switch sockets
+£POA Mouse options
Heavy duty high-quality PC, Xbox Adaptive Controller and HORI Flex compatible joystick. Fully analogue. MERU cow-bar top not supplied as standard (pictured below).
Please feel free to e-mail for further information and for ordering details and strength adjustment.
---

Aluminium case.
3 joystick tops supplied.
Joystick top does not spin.
Velcro base (hook/rough style).
Silent "hall effect joystick" operation.
MERU cowbar can be ordered as an optional extra.

9cm high from base to cow-bar wrist/hand rest area.

Around 600g of pressure to move the stick to the edge. Lightest option is around ~70g. Heavier also avaiable with a thicker spring.

Base = 16 x 10 x 3 cm
Stick height from base = ~9.5cm

Stick extensions, 1/4" 20 camera mount, Golf Ball tops and other customisation options available upon request. More pictures here. Other joystick toppers here.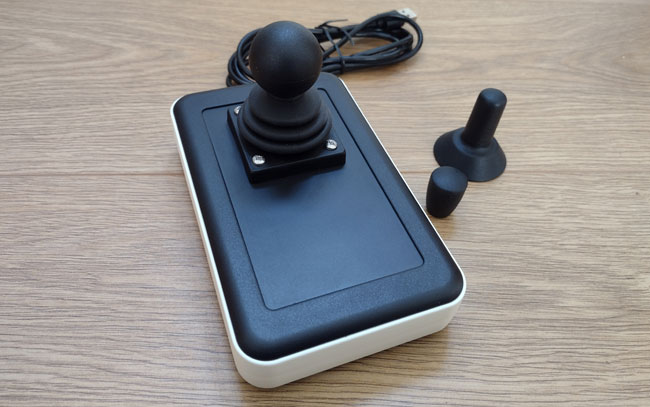 Zik-Zak LARGE Plastic above with interchangeable tops. Below a Zik-Zak LARGE Metal with black box and optional Golf ball top and switch sockets.