One Switch Guitar Shred Show
Play guitar as Mr.Fastfinger - Zen Guitar Hero using a single switch. Practice alone in preparation for a Jamming session in front of the 'Tapping Dwarves' when you are ready. See this YouTube video for a short demonstration.
Mr. Fastfinger is an on-line guitar tutorial and game available to play at the Guitar Shred Show. Click on "The Mountain of the Tapping Dwarves" red plectrum to begin. It is normally controlled using the mouse and keys A-Z and 0-9. Using the small free to download utility, 4Noah Shred, it is possible to use the Left Mouse Click alone to play.
Download: 4Noah Shred
---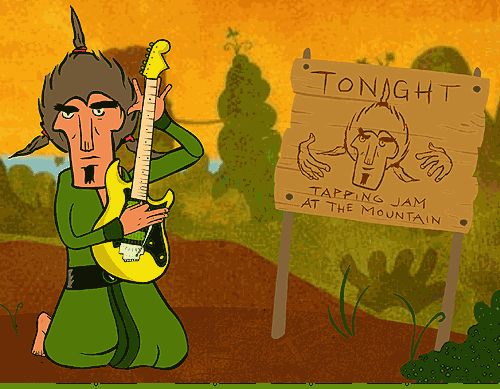 ---
Download 4Noah Shred.
Set your accessibility switch to trigger a left mouse click (see JoyToKey).
Go on-line to the www.GuitarShredShow.com.
Click on "The Mountain of the Tapping Dwarves" red plectrum to begin practicing.
Double-click on the 4Noah_Shred icon to start the one-switch utility.
Click on either "Latch" (tap to play a riff - tap to stop) or "Hold" (hold to play a riff).

Click on the Guitar to drag the window around the screen to a convenient spot.
Press your switch to jam!
N.B.If you minimise the 4Noah Shred window, you presently must press the SPACE BAR to reinstate it.
Guitar Shred Show is the copyright of Mika Tyyskä - 2007, 2008.
The Public Domain 4Noah Shred utility written by William Pilgrim in 2008 based on an idea by Barrie Ellis of OneSwitch.org.uk.